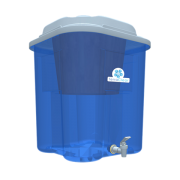 Quick Filter Facts
Daily Volume
20-60 Liters
Clean Water Storage
36 liters
Guaranted to Last
Up to 5 years
Laos has seen amazing growth over the last 30 years, yet 43% percent of the population still lacks adequate access to improved drinking water. The TerraClear Ceramic Water Purifier empowers communities and households to treat their primary water sources at the place most likely for re-contamination - inside the home.
Extremely small pores in the ceramic are highly effective at the removal of bacteria, protozoa, helminths, turbidity and other suspended solids.  The ceramic elements are infused with antibacterial silver to provide a permanent, secondary defense.  The TerraClear Ceramic Water Purifier reduces bacteria by up to 99.99%.
TerraClear is a social enterprise located in the Lao PDR. We focus on overcoming financial, common practice, and technological barriers to clean drinking water.  Through partnerships, we serve the very poor and marginalized.  
TerraClear strives to see positive social and environmental gains throughout the Lao PDR. We are also a registered Carbon Project with the Gold Standard. 
TerraClear is the first and only scalable producer of household water filter products in the Lao PDR. We provide work for over sixty dedicated local staff, and supply a majority of the income for a group of 85 artisans in Southern Laos.